Madripedia
February 16, 2007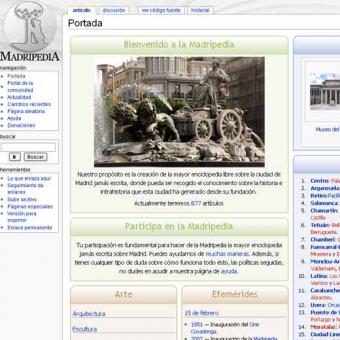 There's an increasing number of "pedias" on the Web, and now we have Madripedia, which aims to become the biggest ever Madrid-based encyclopaedia (in what's probably a limited field). It follows , which has done the same thing for Córdoba since 2005, and which now has 3,700 entries (Madripedia only has 850+ so far). So it's over to you! Any experts in cocido madrileño out there?

RIP
December 10, 2006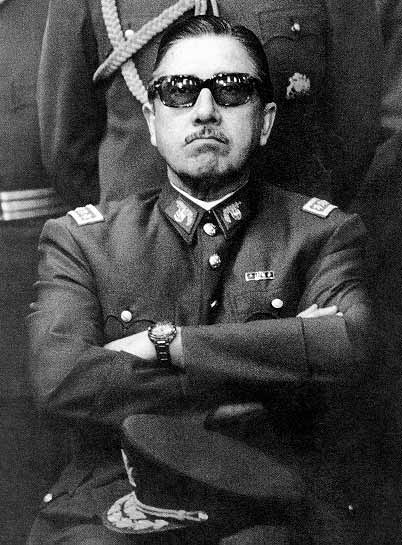 Un cabrón menos, as a friend of ours said.
Update: I heard on the radio this morning that Pinochet was once asked why he always wore sunglasses. His answer was that if you tell a lie and you aren't wearing them, people will spot it. What a card.

Julio Alejandro
December 8, 2006
2006 marks the 100th anniversary of the birth of the poet and screenwriter , who wrote several of Luis Buñuel's films including Viridiana (from which the fine still above, of actress Silvia Pinal, is taken: and the version linked to is the one to have). One evening in 1995, he was with the writer Manuel Vicent and the director José Luis García Sánchez at his home. By now in his late 80's, Alejandro told the others that he'd had a vision in which a little girl appeared, to whom he'd wanted to give a tortoise shell, or some other part of an exotic animal, as a present. The little girl reproached him, asking why he'd killed the animal, and wondering why he didn't die himself, since he was so old… As he was coming to the end of the story, Alejandro passed away.
The Rooftops of Madrid
December 5, 2006
This eyecatching image, taken from the Gran Vía out towards Moncloa, is from the enjoyable site Notes from Spain, a blog/podcast run by two expats who also give Spanish language classes over the Internet. I read about them here over the weekend and they run a professional-looking e-ship. Their comment about how the image is deceptively peaceful, given the chaos and noise beneath, is spot-on.

Feld
December 1, 2006
This is Feld. You may have seen him. Feld has been living at Madrid's Barajas Airport, Terminal 1, for three years, after having failed to catch his flight to Los Angeles. He speaks six languages, signs his name "Feld Charles I",and nobody's sure who he is: and he ain't telling. He may be an African diplomat who lost his job; he may be an Indian rajah, though he's probably Ethiopian. (The police aren't sure, so they can't send him back home anywhere.) Sometimes the social services people come to try and make him lead a more normal life, but Feld isn't interested: his mission is to turn Terminal 1 into a mysterious "People's Palace". If you see him don't give him money, because he won't accept it. "What," a recent El País article about him ends, "does Feld feel is missing from his life? At this question, his eyes fill with tears; he remains silent a few seconds, covering his mouth with his hand. When he takes his hand away, it is only to say in English: "This conversation is over".